Rethinking Luxury Sustainably
with our partners Tom Dixon
We take a closer look at the story behind our packaging partnership with Tom Dixon and explore the importance of sustainable luxury packaging.
Text by Vicki Walmsley.
>
Tom Dixon is a London based world-renowned British designer known for producing a vast collection of products, including famous pendant lighting, as well as his unrivalled, luxury furniture.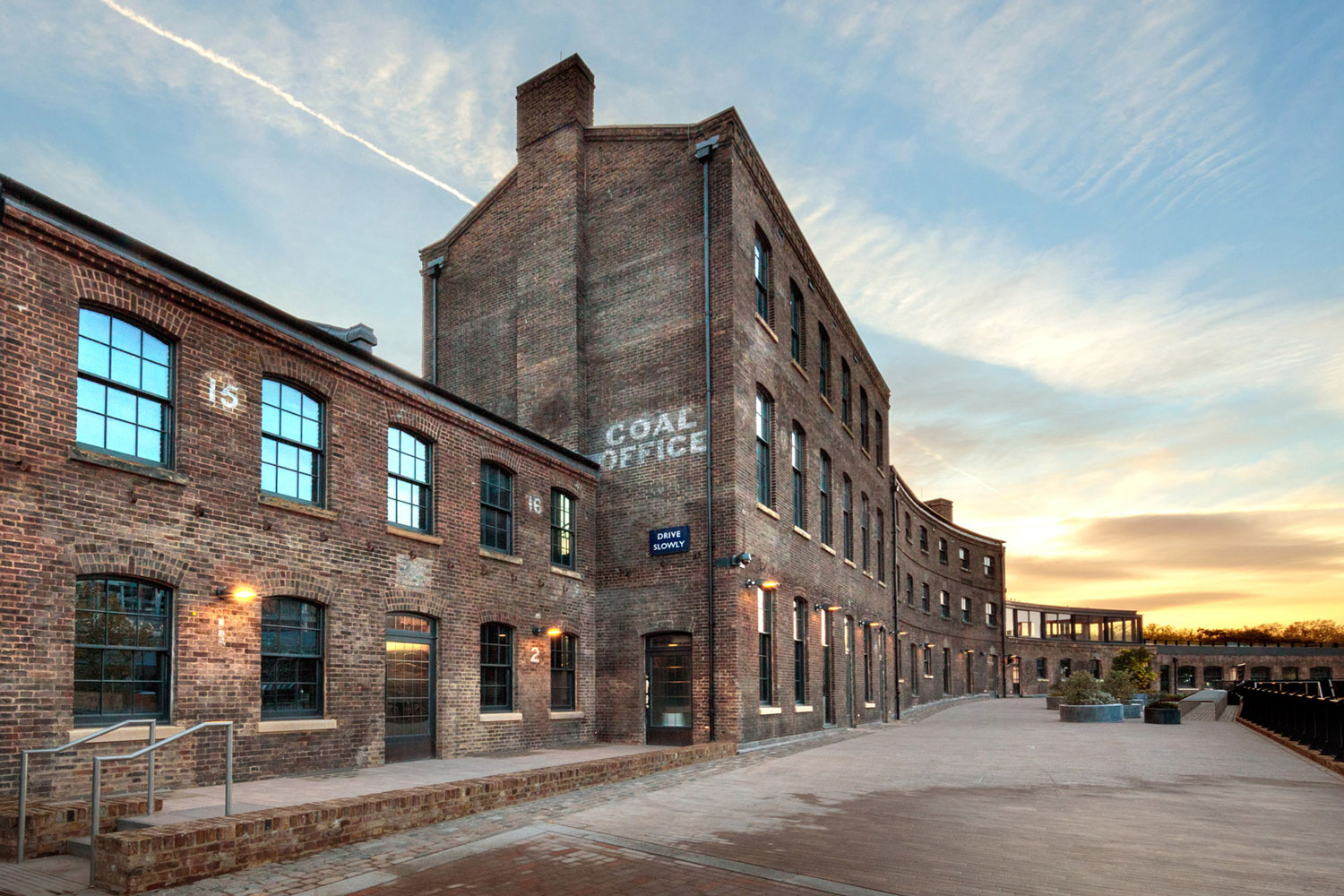 Tom Dixon's iconic London Coal office is a dynamic location from a renowned brand.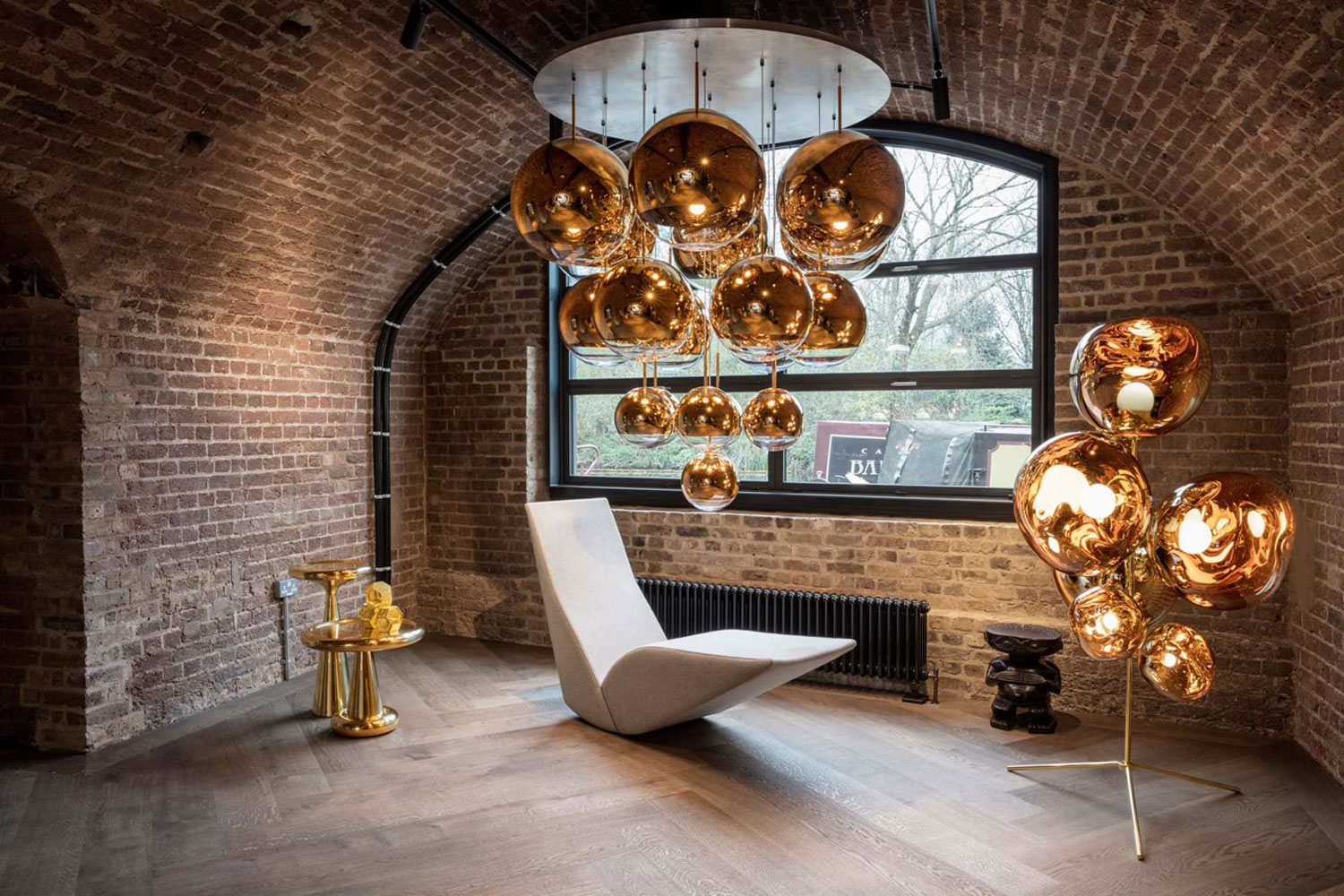 His history for elaborate and eccentric designs is unrivalled in the world of lighting, luxury furniture and accessories.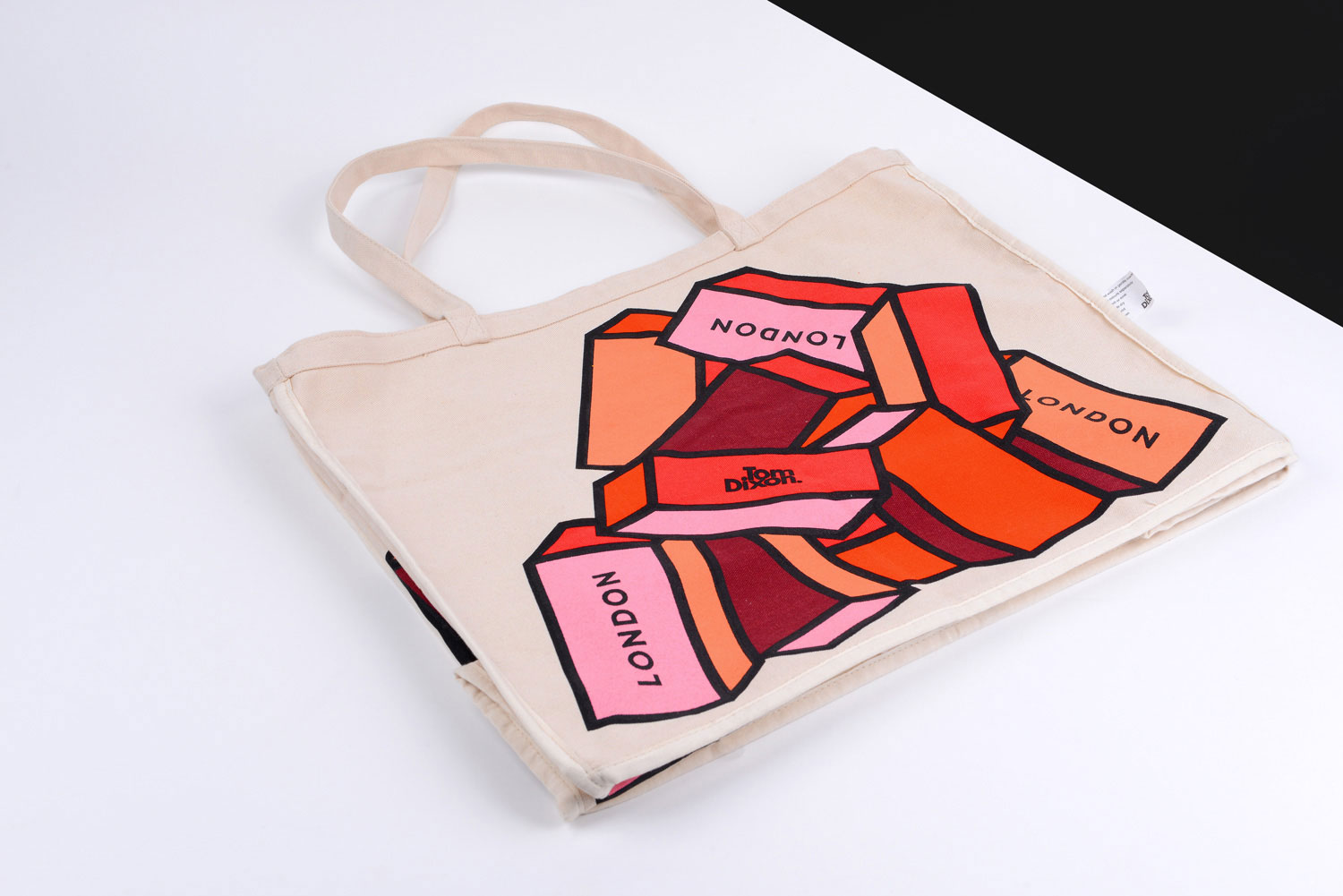 Having worked with Tom Dixon for many years on a range of designs, we're able to understand their briefs and deliver a strong brand message throughout.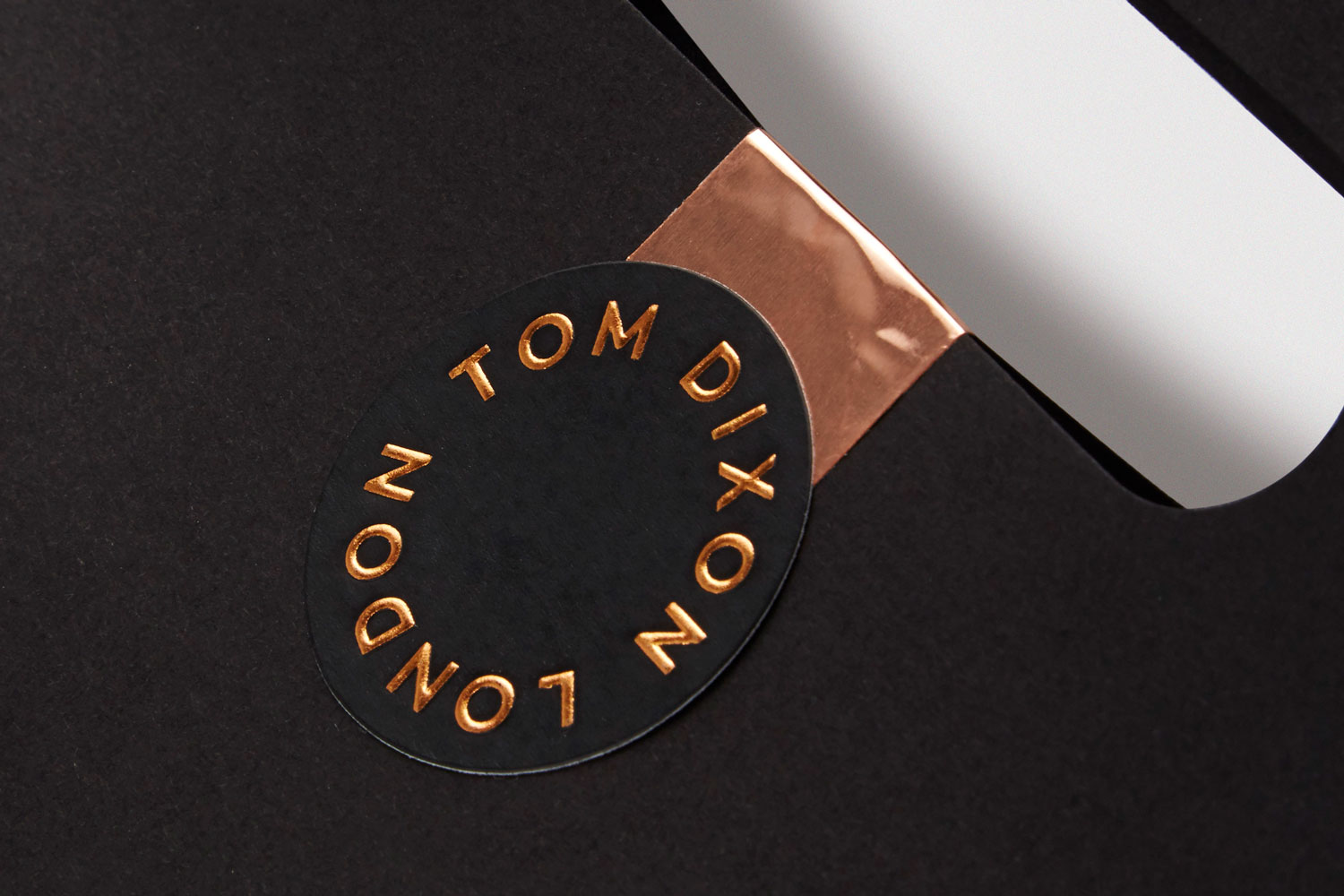 This custom foiled sticker from a previous project highlights their timeless branding.
Tom Dixon came to Progress with a brief to fully overhaul their e-commerce packaging collection and to specifically focus on using eco-friendly and sustainable materials, whilst retaining their high standard of quality and luxury.
The scope of the project was as big as their product range, which covers items as small as candles, all the way through to fragile architectural lighting pieces. Centring on corrugated boxes — which we produce to FSC standards by using fully recyclable and recycled materials — we went on to provide labelling for branding and envelopes, as well as gift cards and receipts, all made using sustainable materials. To partner these items, we also produced recycled Kraft carrier bags to be used in retail stores and as part of their online gifting range.
These recycled Kraft carrier bags are made from 100% recycled, high quality stock papers.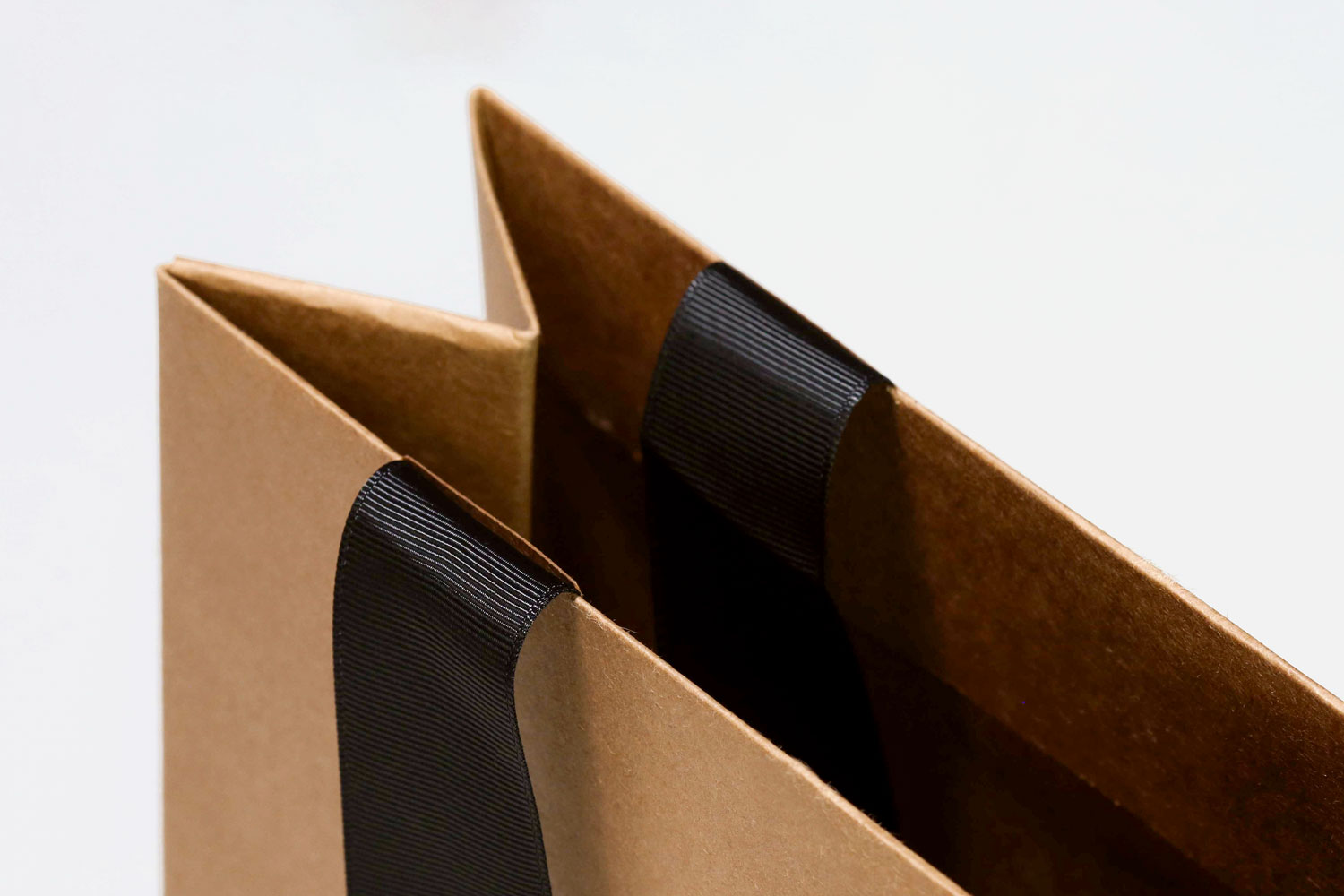 The handles were made from woven paper, allowing the bags to be fully recyclable.
Tom Dixon have pathed the way for mass-produced eco-friendly luxury packaging.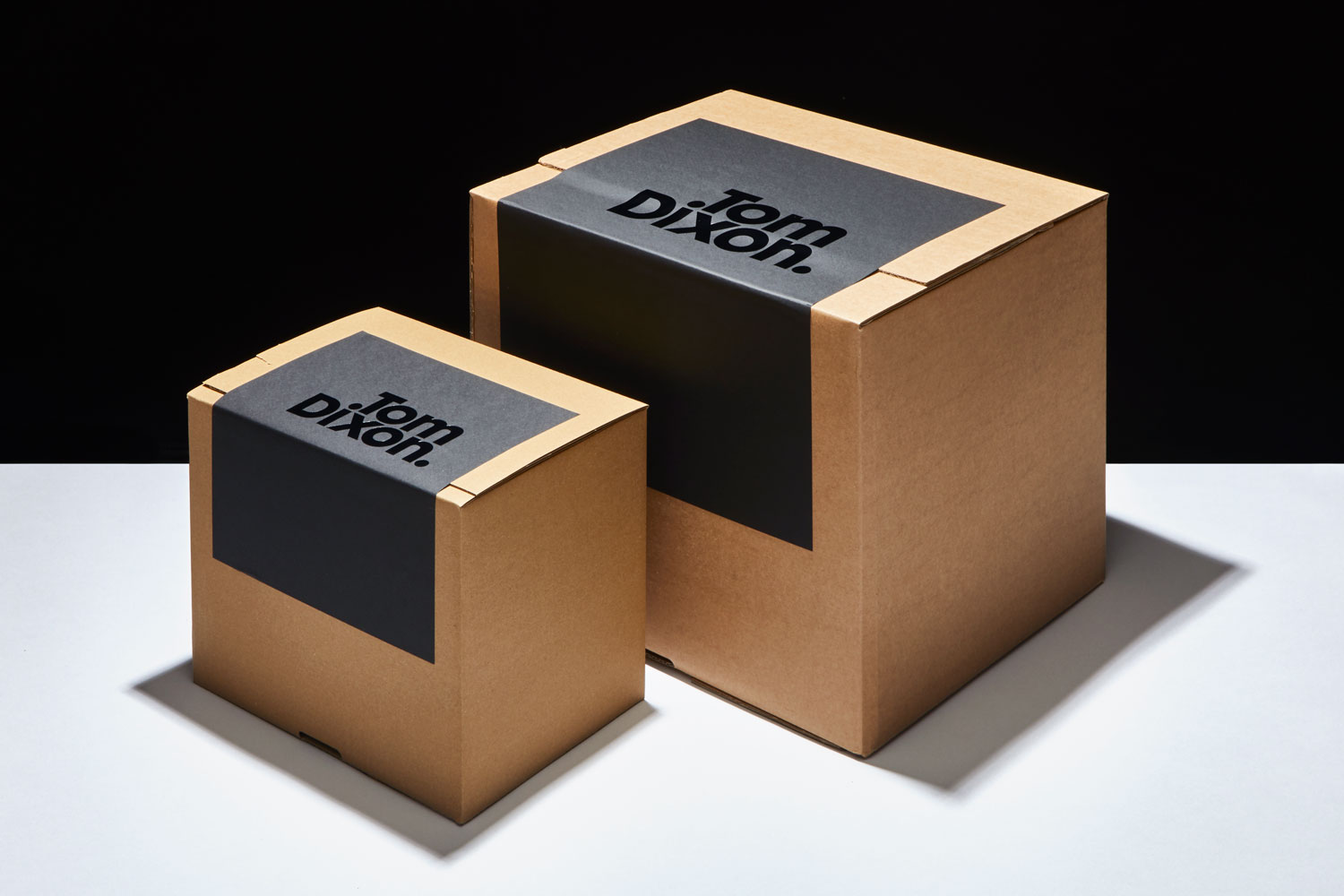 Multiple sizes of corrugated boxes were produced for their e-commerce packaging collection.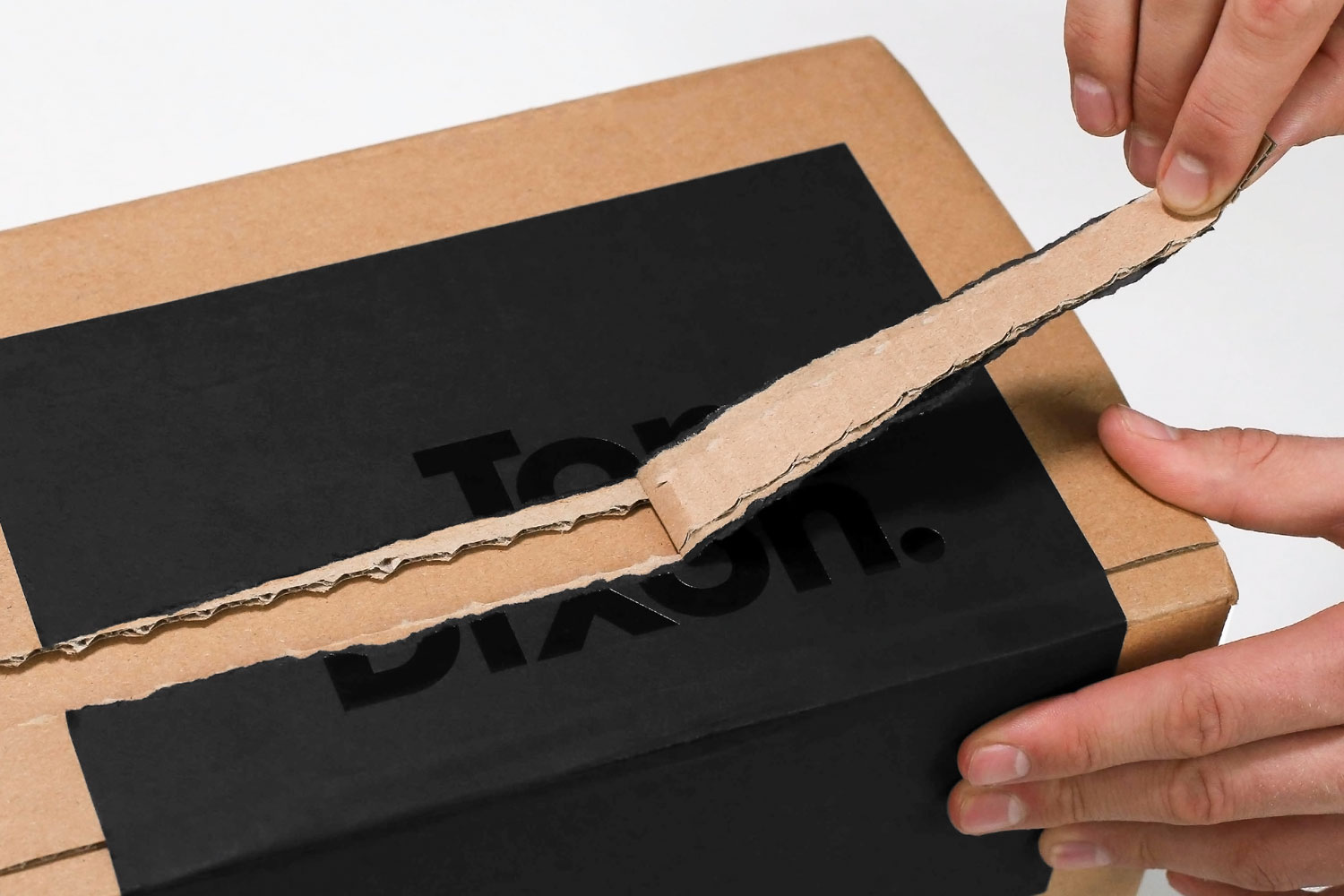 Foil blocked labels were made on FSC-approved, uncoated papers.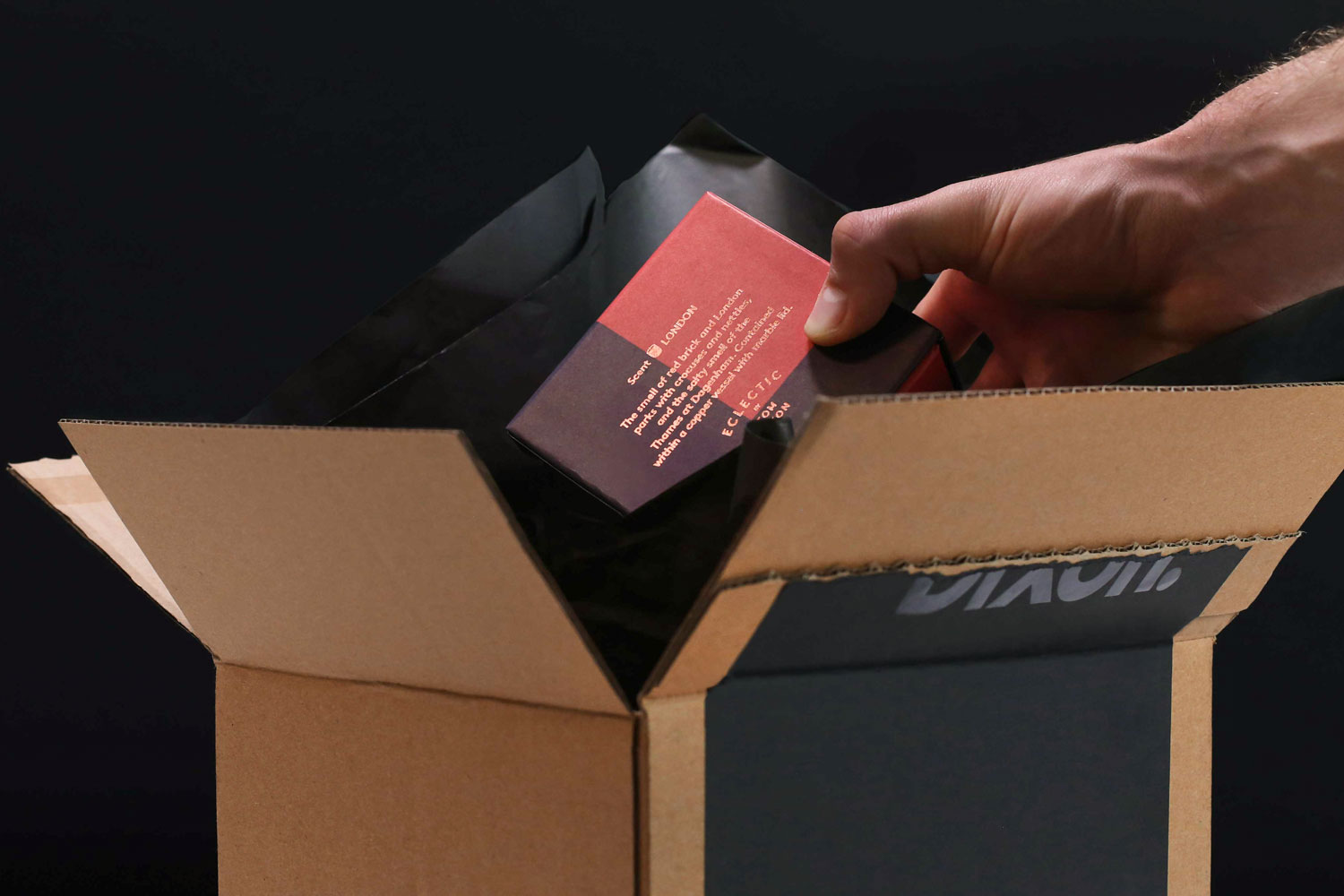 Loose fill is included in the boxes, using either recycled tissue or Kraft paper, providing protection for the items inside, as well as an unveiling experience for the recipient.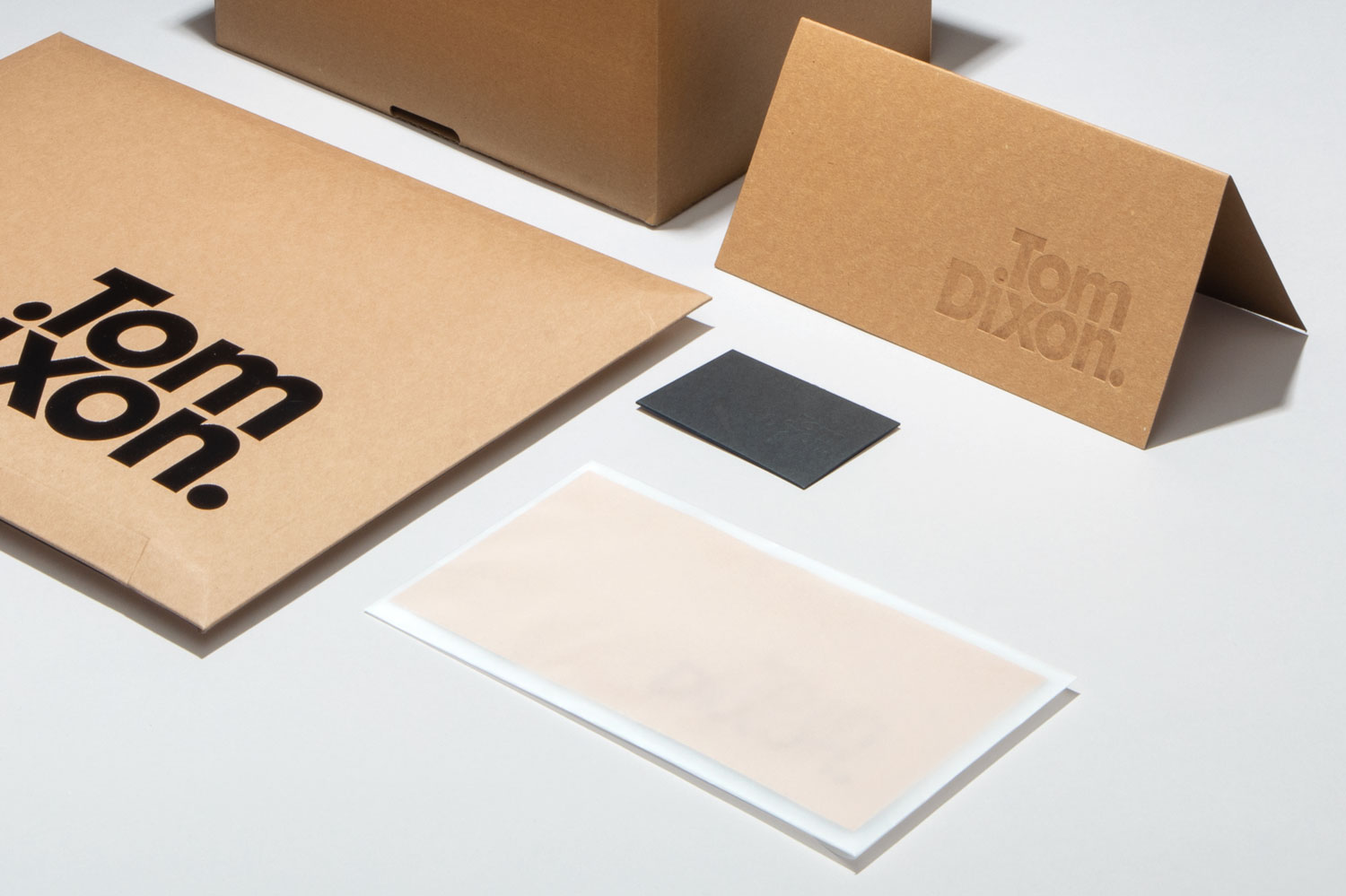 Tom Dixon's mailing pack pieces provide a strong branding experience throughout.
We produced five sizes of corrugated board boxes that were supplied in flat-pack format to the client. Each box was designed with crocodile tear and double-adhesive strip as a delivery/return mechanism. The branding labels were foil blocked on FSC-approved, uncoated paper in the requested sizes to create a luxury yet crafted look. When the items being transported need that extra layer of protection, loose fill is added to the boxes using either recycled tissue paper or recycled Kraft paper.
To marry up with the outer pieces, receipt cards, gift cards, and envelopes were made using recycled and FSC approved Kraft stocks. A large card envelope was also developed to accommodate flat items that would not need to be boxed.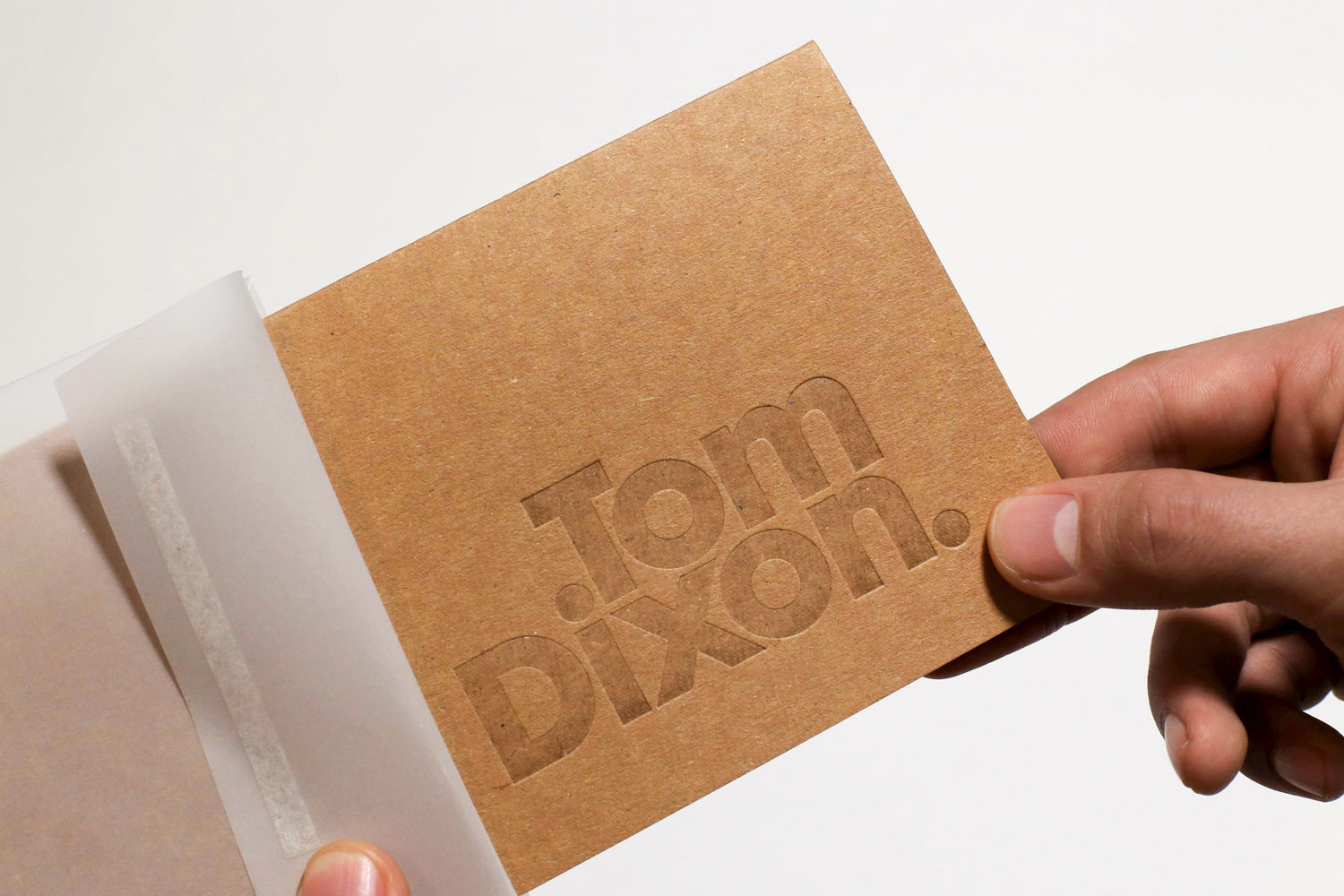 Blind embossing is a classic yet subtle process to present a brand where colour is not suitable to the design.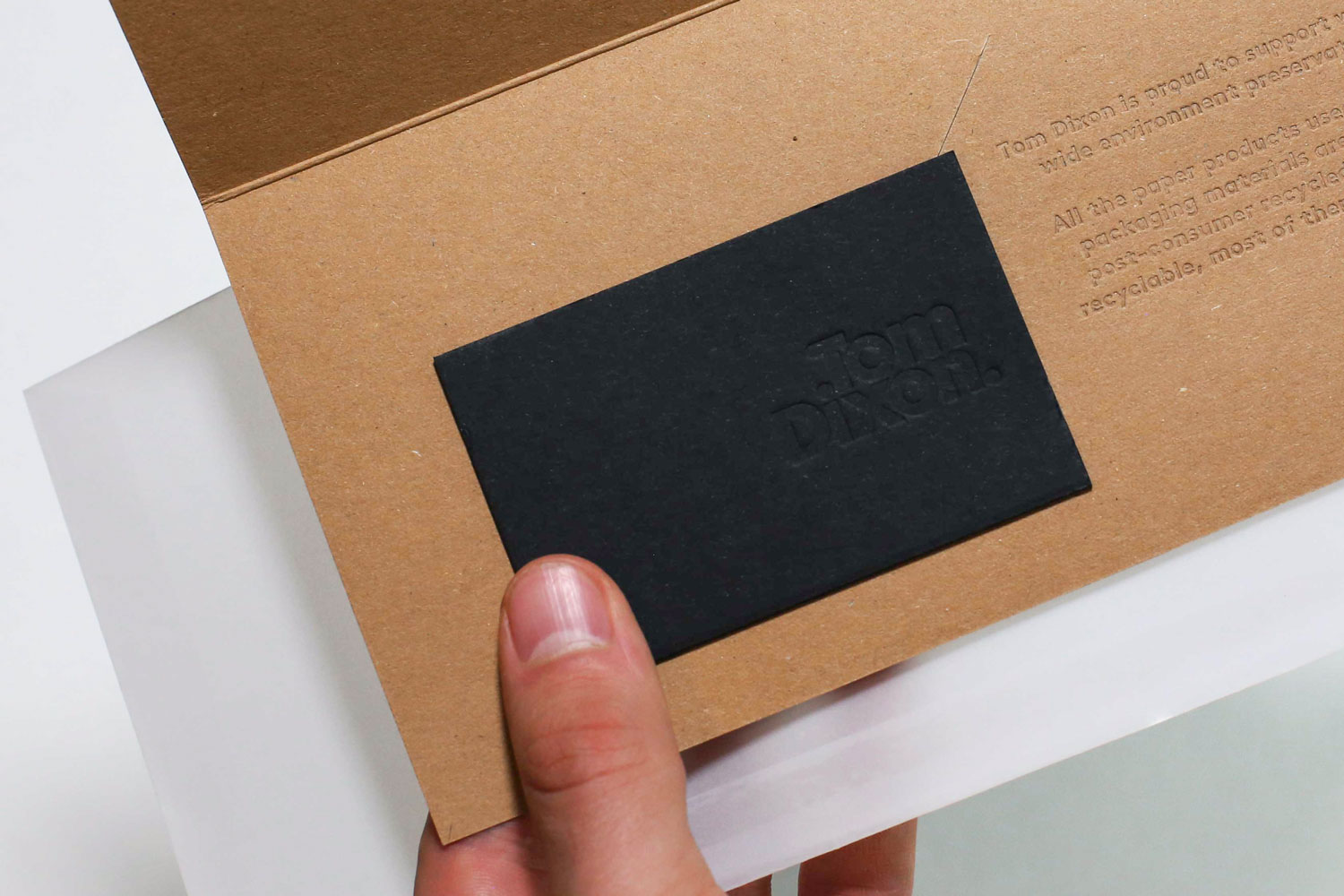 A series of compliment slips, gift card holders, and receipt cards were also made from recycled and FSC approved stock papers.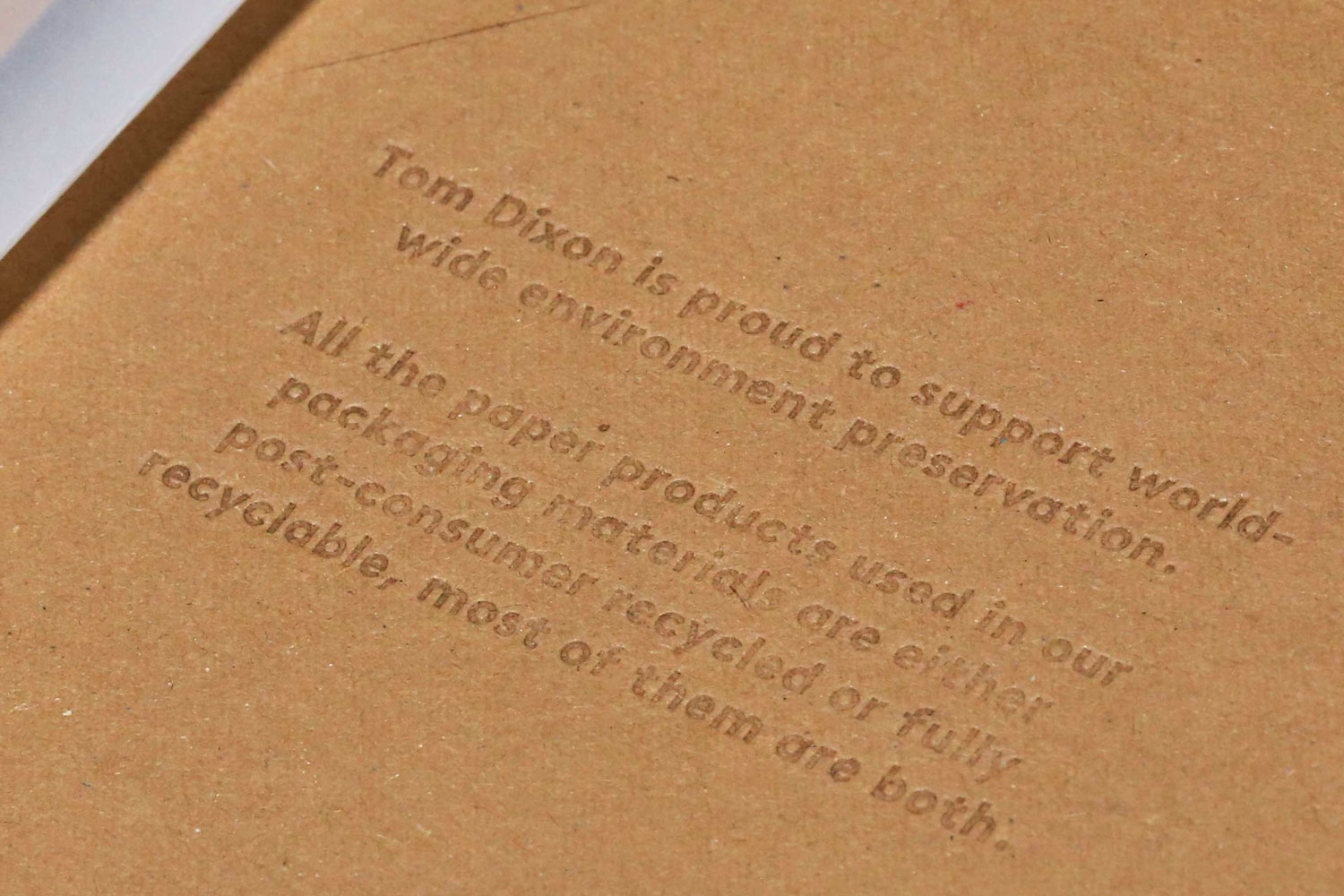 Tom Dixon were committed to delivering a message on packaging sustainability by using a subtle blind emboss.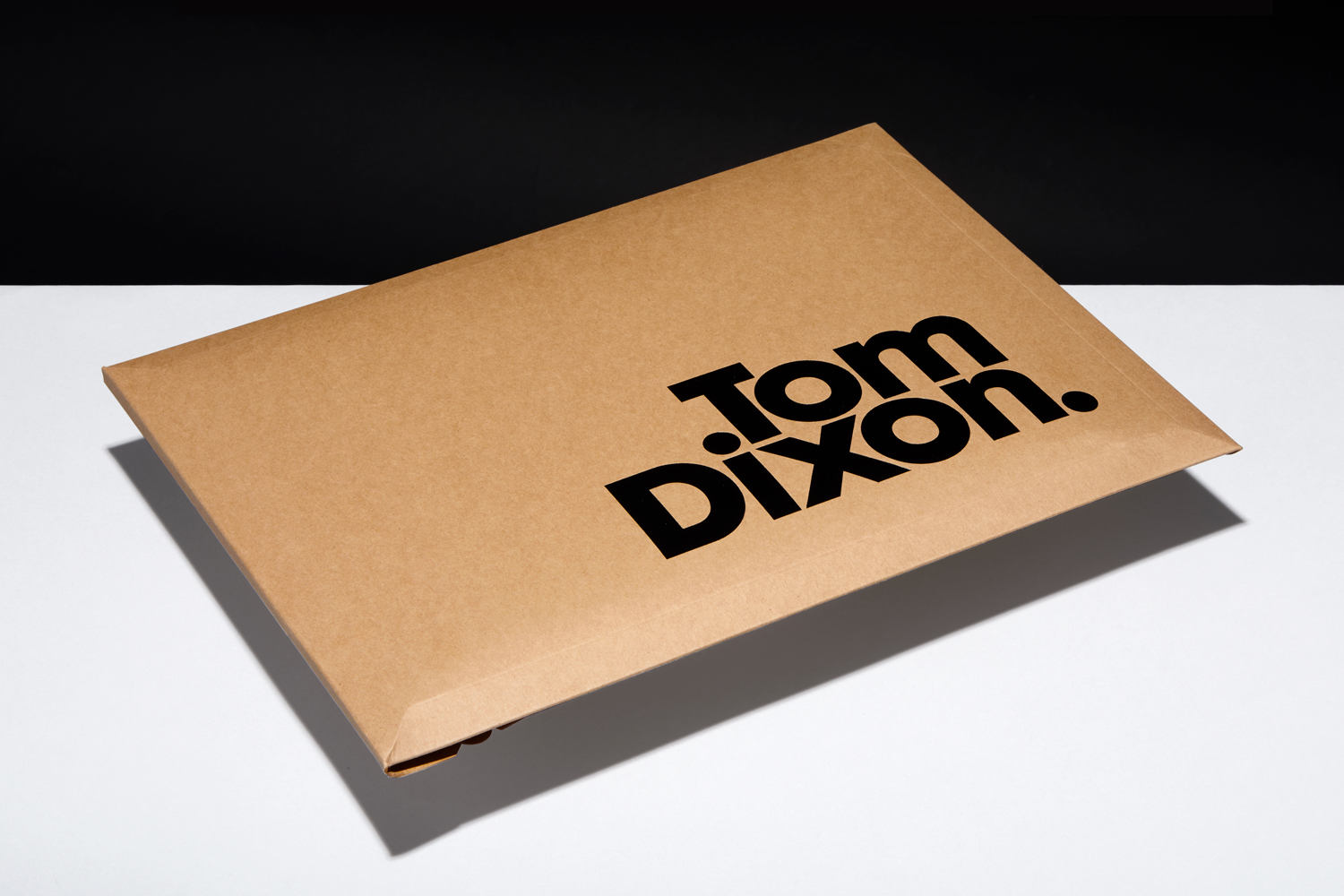 For smaller items, we produced a flat pack mailer, ensuring the most suitable e-commerce packaging is used to maintain environmental impact.
High quality luxury packaging centred around a message of sustainability.
The finished range creates a strong statement from the brand in an era where packaging is under the microscope more than ever. It proves there is such a thing as an eco-friendly style, and Tom Dixon are not afraid to lead the way in providing products safely while caring for the environment in the process.