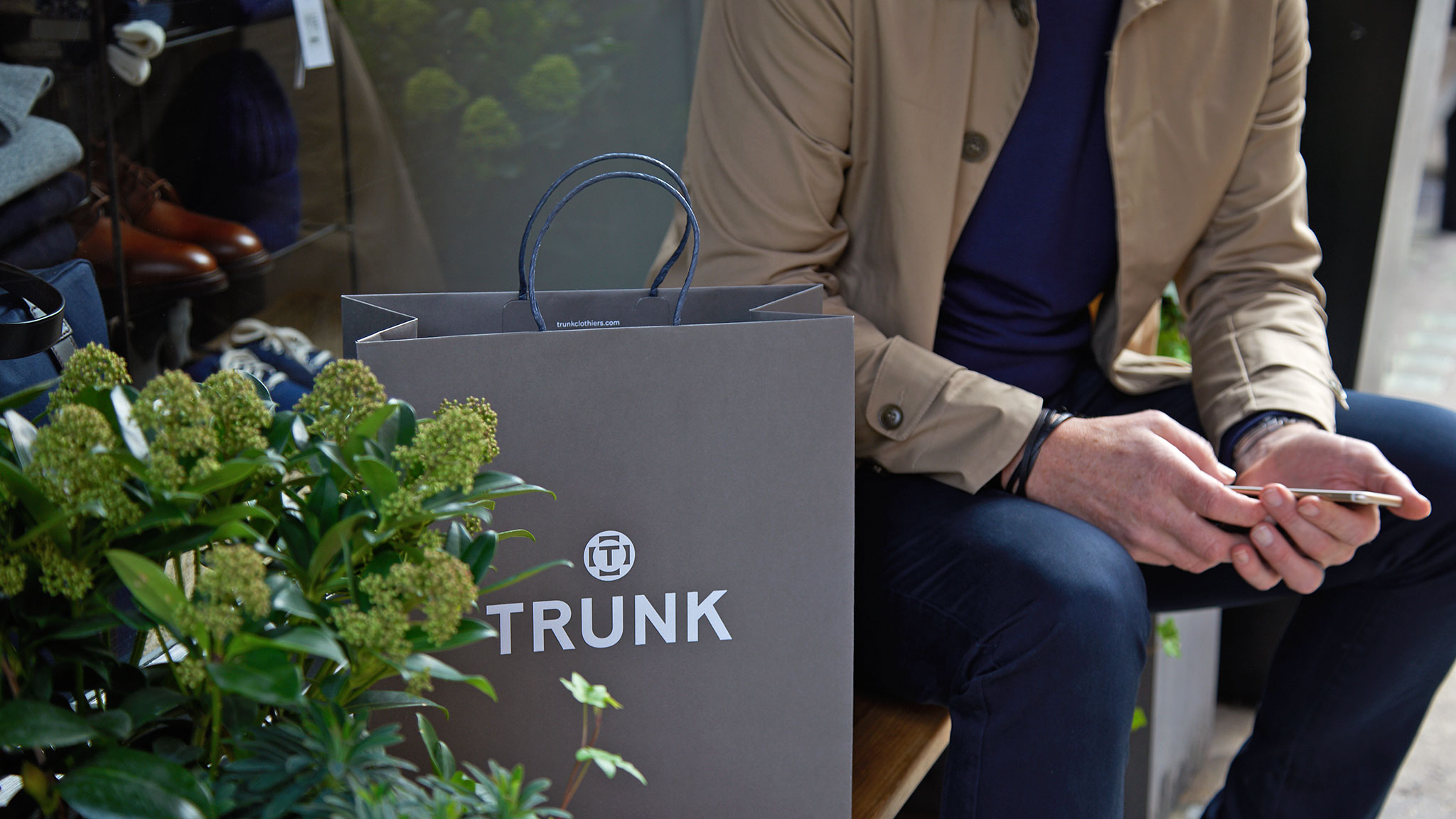 Tailored Packaging
for our partners on London's historic Chiltern Street
Simon Farrow (Progress MD) recently took a trip to London's Chiltern Street to find out what independent retailers in contemporary tailoring look for when thinking about packaging their luxury goods.
Text: Vicki Walmsley
Photography: Guy Farrow
Chiltern Street in Marylebone, London, has become the place to be seen in recent years after it has been carefully modernised to attract a new generation of cosmopolitan visitors, while ensuring it remains true to its heritage and historical atmosphere.
From shoppers, diners, and travellers, to celebrities from across the globe, people from all walks of life can be found here. Whether it's a stay at the transformed Victorian Fire Station that now presents itself as a boutique hotel – The Chiltern Firehouse – or to browse through the new wave of independent retailers that have flocked there over the past four years, Chiltern Street has a respectable reputation for its timeless quality, cool, and flair. Thanks to our partners in this historic area, Progress Packaging is now able to say that we're a small part of that too.
Simon Farrow recently made the trip from Yorkshire to London to visit a selection of independent retail stores who we've been honoured to work with. His visit to Chiltern Street included stops to see our products in place at our partners' stores at Hamilton and Hare, Trunk Clothiers, and English Cut.
In a world filled with high streets, uninspiring department stores, and discounted prices on every corner, true product quality and innovative design stand out now more than ever before. Is this the reason Chiltern Street is classed as the cool place to shop? We think so. Meticulous design is an important part of making your product significant. As a packaging company, we have always been focused on providing a tailored experience for each of our customers, while keeping within budgets without sacrificing quality. The same thing can be said for independent stores like Hamilton and Hare, Trunk, and English Cut whose ethos and ambitions reflect those of our own.
''true product quality and innovative design stand out now more than ever before.''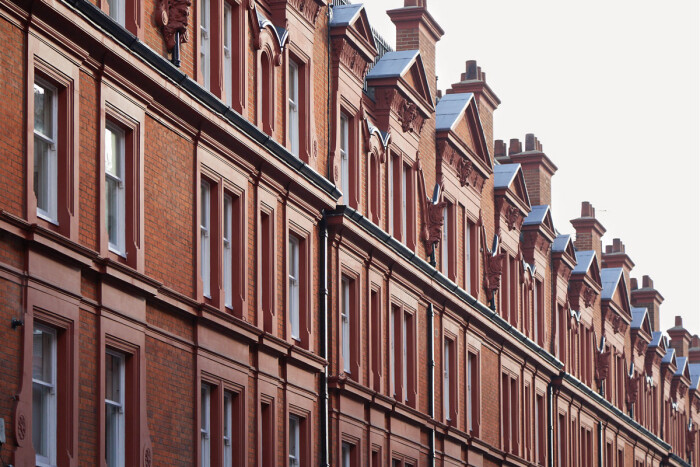 Chiltern Street is the newest destination of The Portman Estate. Recently voted 'London's coolest street' by Condé Nast Traveler, its modernised character mixed with the undeniably intriguing heritage of the red-bricked buildings have made this a destination for a new wave of cosmopolitan visitors.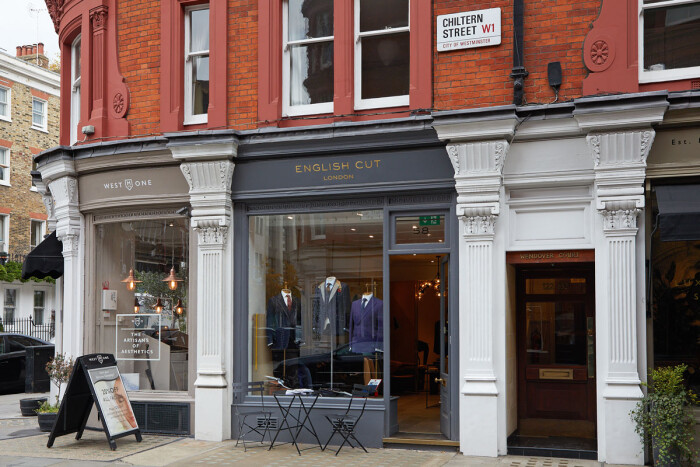 This area in Marylebone has recently been transformed, with a number of independent, contemporary retailers recognising the area as a key location.
Intimate, tailored-to-needs businesses can offer so much more than chain stores ever could, as the independent enthusiasm connects the customer to the product with a charm that is lost on the bigger, busier high streets, where the only thing that truly matters is the ringing of the old-fashioned till.
The attention to detail on Chiltern Street doesn't begin and end with the products they sell. It's in the spirit of the cobbles with each shop front focusing on the way they present themselves to the world beyond the door. Their packaging has become a vital part of that along the way. Generic carrier bags are no longer an option. Plain, uninspiring boxes won't do. Plastics and polythene are considered lazy and damaging, while poorly designed mailing cartons and flimsy suit carriers simply aren't providing a good enough consumer experience. There is now a demand on the same quality of the packaging as of the clothing. After all, nothing feels better than making a purchase and walking down the street to proudly show off your equally well made, inspiring bag as others walk by imagining what surprises might be inside. It's at this very point where the retailer connects with a whole new audience who may not have noticed them before, and that is why packaging counts.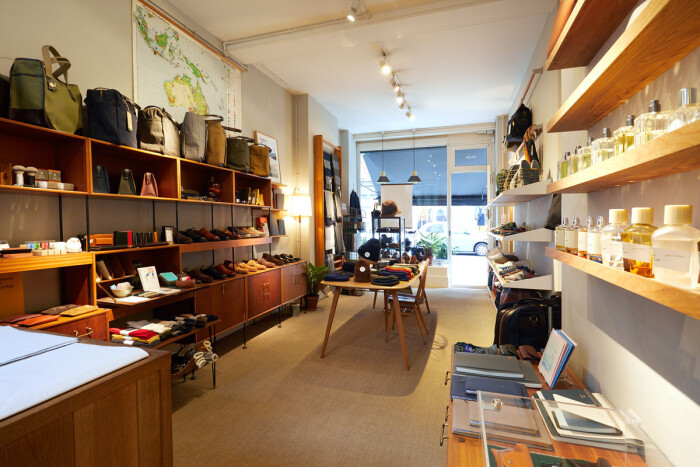 Trunk Clothiers are mainly an in-store brand, recognising that their physical presence is what sets them apart from the rest. Their retail floor reflects their brand: simple, classy, and accessible.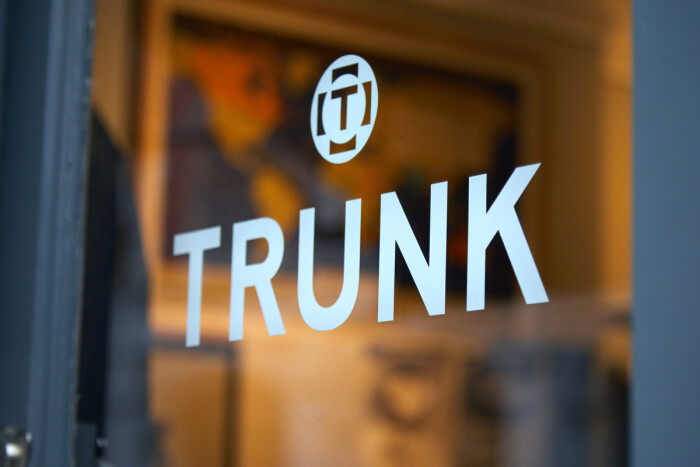 Trunk Clothiers is a menswear store founded by Mats Klingberg in 2010. The original shop was located in Chiltern Street, with a sister accessories store – Trunk Labs – now just a few doors away.
''independent enthusiasm connects the customer to the product with a charm that is lost on the bigger, busier high streets.''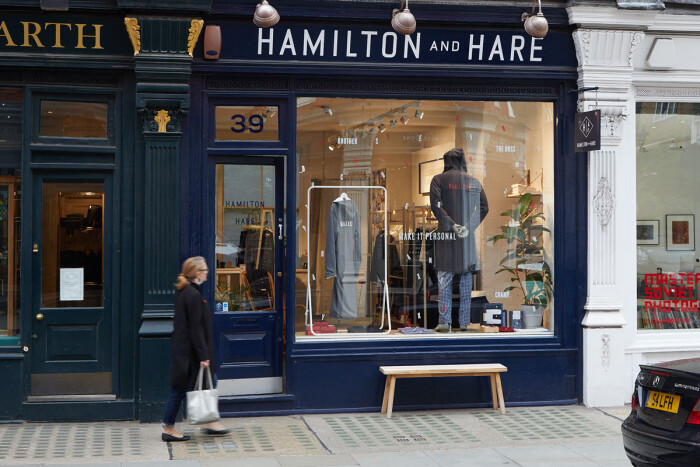 Earning the highest praise possible from the likes of Esquire, GQ, and Men's Health magazines, Hamilton and Hare stand strong as one of the UK's leading high-end undergarment retailers.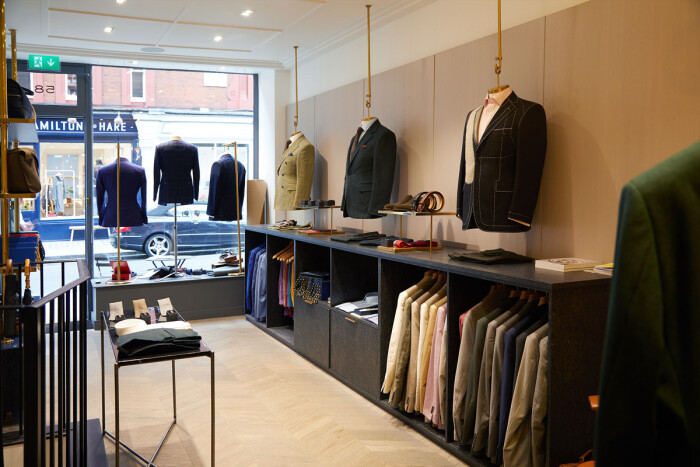 English Cut pride their selves on breaking tradition. Although their retail store is based on Chiltern Street, their tailoring is finished at their head office in Cumbria.
Independent retail stores now have to be mindful of the way they present themselves beyond their brand, too. For example, whether or not the materials they use for their packaging are responsibly sourced, reusable, or recyclable. If they're considered to be careless with the environment around them, more and more mindful consumers will be turned off.
From the first point of contact, Trunk Clothiers expressed how imperative it was for them to work with a packaging company who would put the eco-friendly requirements to the top of the list of demands during the design process. Dedicating to meeting their demands, we used uncoated FSC® approved papers for their carrier bags, replacing the rope handles of their previous bags with twisted paper handles to make them 100% recyclable after use. Reusable suit carriers were made from 12 oz canvas with a waterproof backer to ensure their longevity and use throughout the years to come. Nothing is disposable unless it is recyclable, and that is the conscientiousness customers are now demanding.
Independent retail used to thrive better online, but a recent shift in trend has seen online stores moving into premises as the demand for their product grows. The same cannot be said for the high street, with more and more infamous chain and department stores closing down to function mainly online.
Sourcing responsibly with consideration and care is not only good for the environment, but also for the brand's reputation.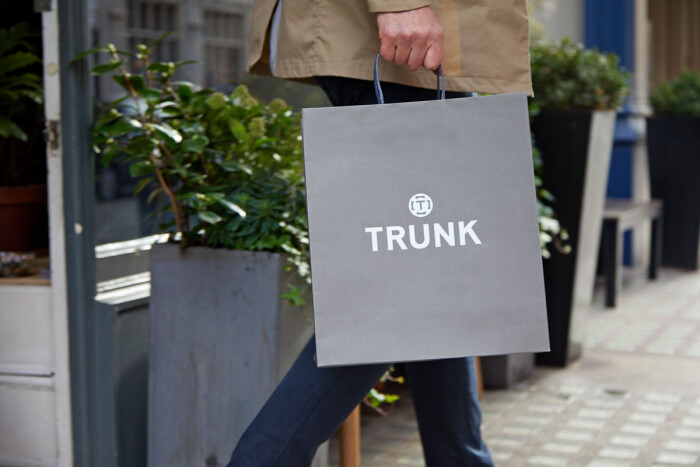 The eco-friendly requirements of Trunk's carriers means that nothing produced is disposable without it being recyclable.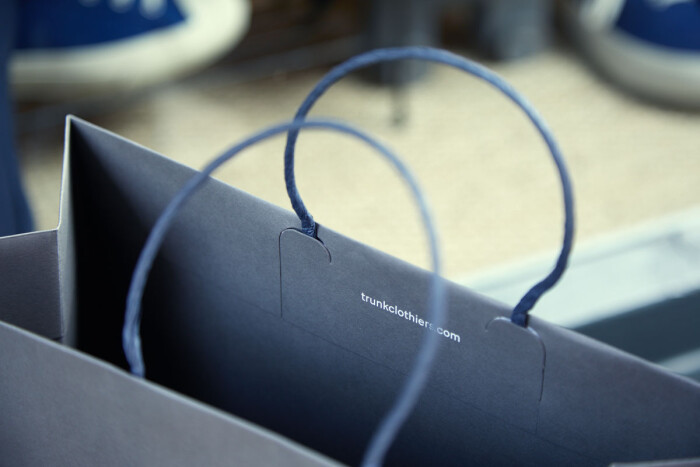 The twisted paper handles of the carrier bags are 100% recyclable, satisfying both the conscientious retailer and consumer with mindfully-sourced packaging.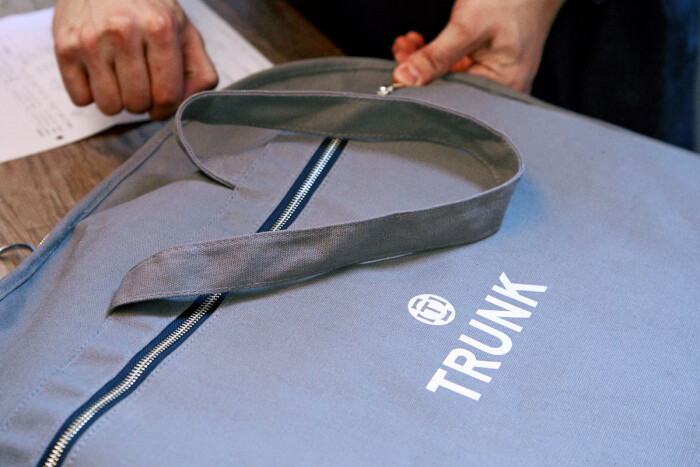 Made from 12 oz canvas with a waterproof backer, the robustness of Trunk's suit carriers means they can be used for many years, not just at the point of purchase.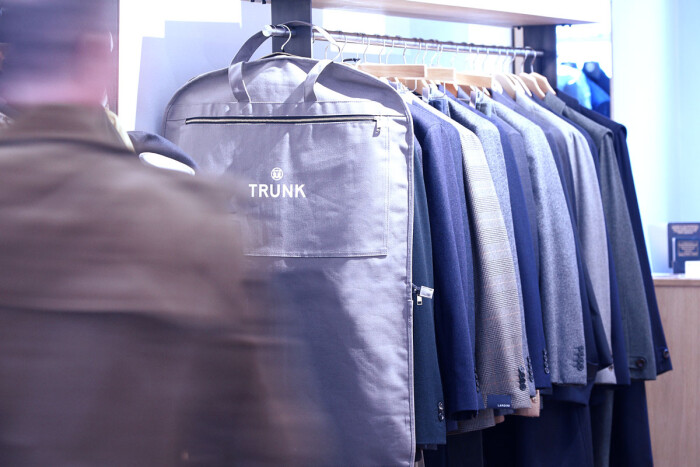 Trunk's suit carriers demonstrate the company's demands for reusable products and materials.
Hamilton and Hare is a fine example of a brand that began on the web to then grow in such a way that led them to opening a shop on one of the most exclusive streets in London. Their needs are different to other retailers, too, with us providing their products flat so we can work in conjunction with their retail and distribution centre to make the packaging process run smoothly for both their online and in-store sales.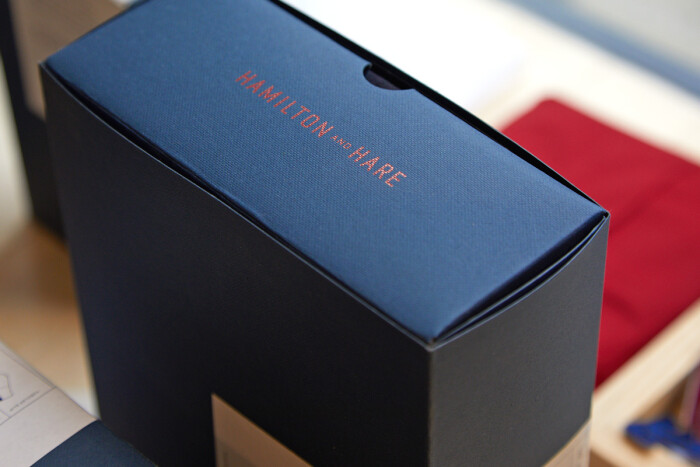 Hamilton and Hare believe that undergarments and loungewear are as important as a person's outer clothing, and should never be considered an afterthought.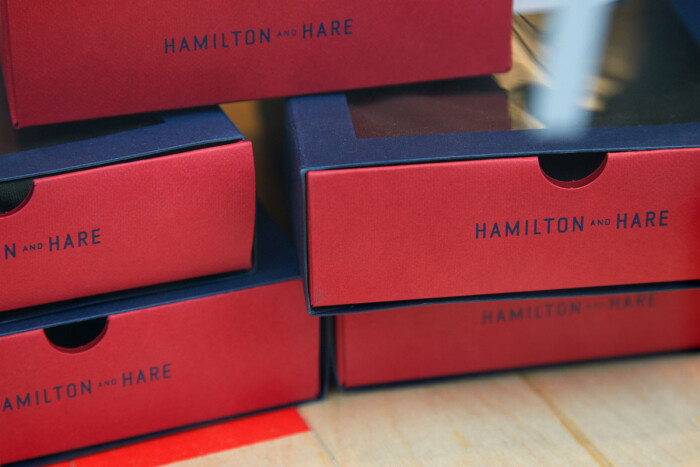 We produced a number of packaging items – all designed by Sarah Carr – including a mixture of single packs, multipacks, stickers, and postcards.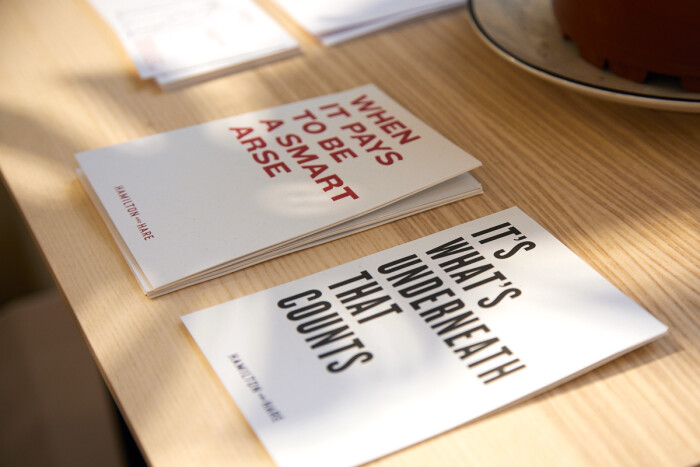 The brand storytelling postcards that Progress manufactured were foiled and printed one colour to both sides.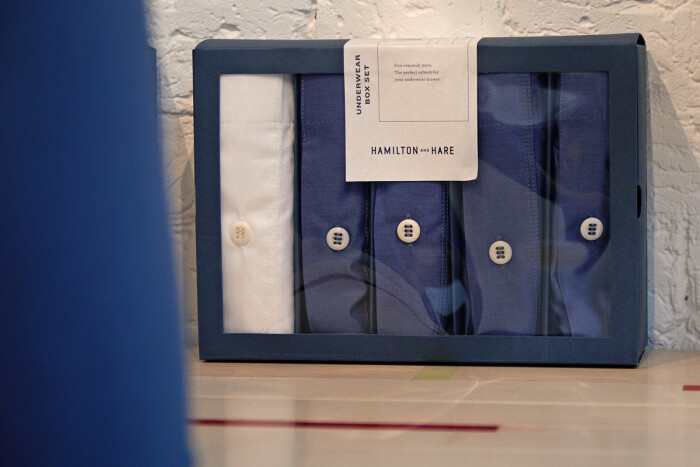 An acetate window panel incorporated into the packaging allows the customer to see the garment within. A self-adhesive sticker fixes into an embossed L-shaped space on the packs to ensure they are placed in a uniform position.
The creators of English Cut are breaking tradition as a well-known tailor by not being on Saville Row. Their tailoring is actually finished at their head office in Cumbria, and they're also looking to open a store in the USA to mirror the presence they've already built on Chiltern Street. With their brand growing stronger every day, so are their packaging demands. A collection of carrier bags with beautiful ribbon handles was produced in two sizes, each one designed to match their business cards and existing branding.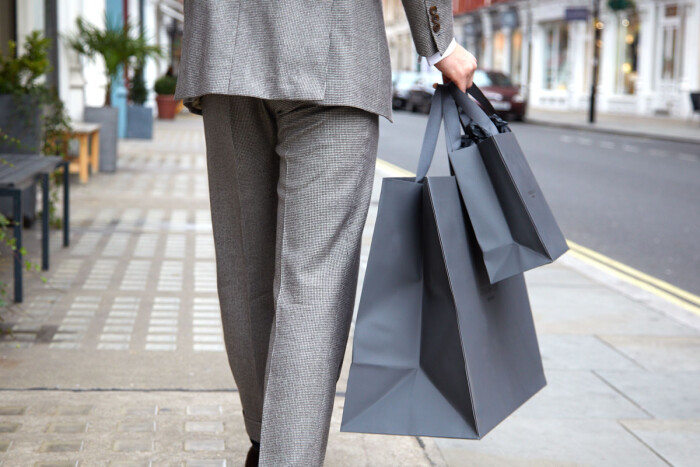 English Cut are as well-known for not being on Saville Row as they are for their unquestionable quality of tailoring.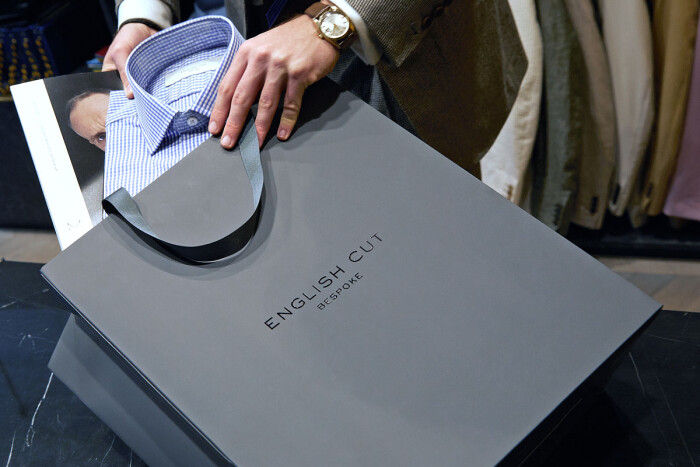 A collection of beautiful carrier bags with ribbon handles were produced for English Cut, matching the branding used on their popular business cards.
After a full day exploring the stores of our partners on Chiltern Street, Simon made a quick stop to call in and see our friends, Form & Thread near Kings Cross Station. Form & Thread pride themselves on creating premium pieces that can be sold below traditional high-end prices while offering essentials that defy seasonal trends and stand the test of time. Their motto is 'Excellent essentials. Mindfully sourced' and mindful sourcing is a huge part of their company ethos. We were excited and honoured to produce paper bags and mailing cartons for them, keeping all their requirements in mind as we created minimalistic packaging that showed class as well as their branding.
''With an independent retailer, you get so much more than just the products you walk out of the door with.''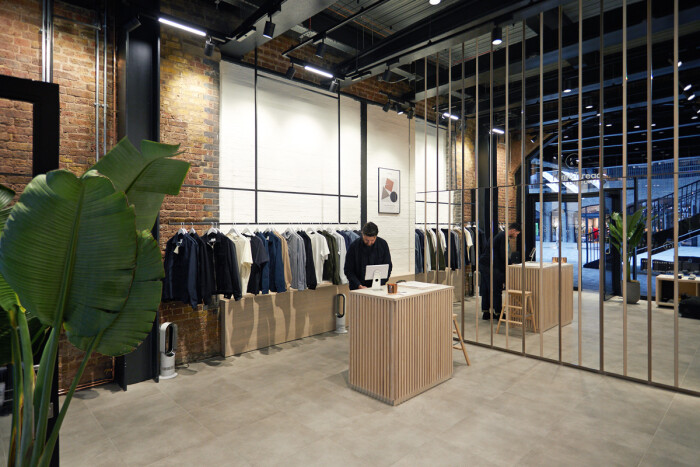 Form & Thread are based in Coal Drops Yard in Kings Cross. The store is a unique blend of industrial heritage and contemporary design.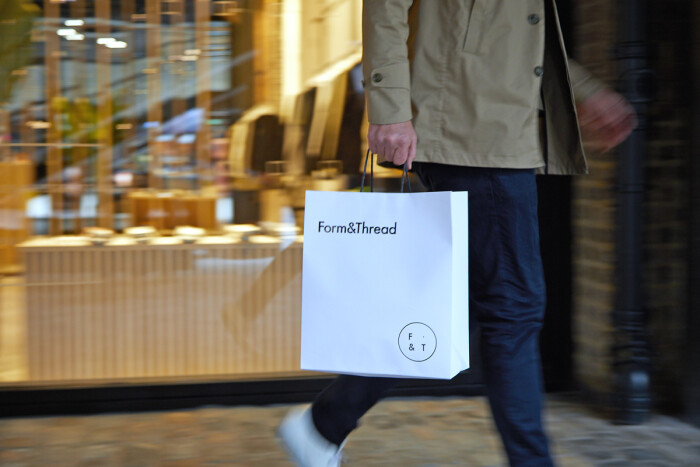 Form & Thread's aim is to create premium pieces that can be sold below traditional high-end prices, while offering essentials that defy seasonal trends and stand the test of time.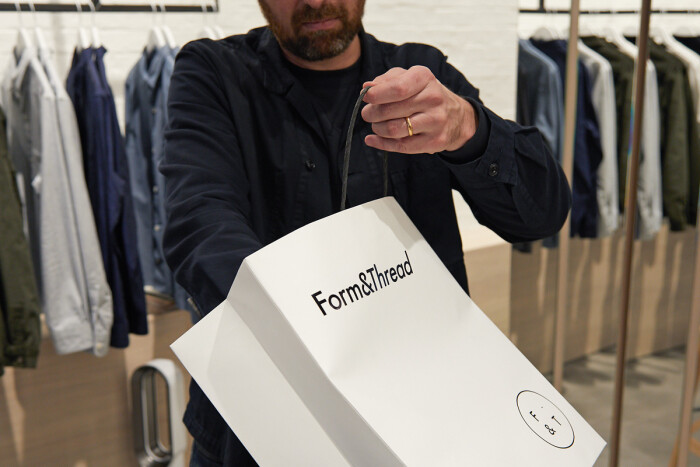 Progress manufactured paper carrier bags and mailing cartons for Form & Thread – all biodegradable and recyclable.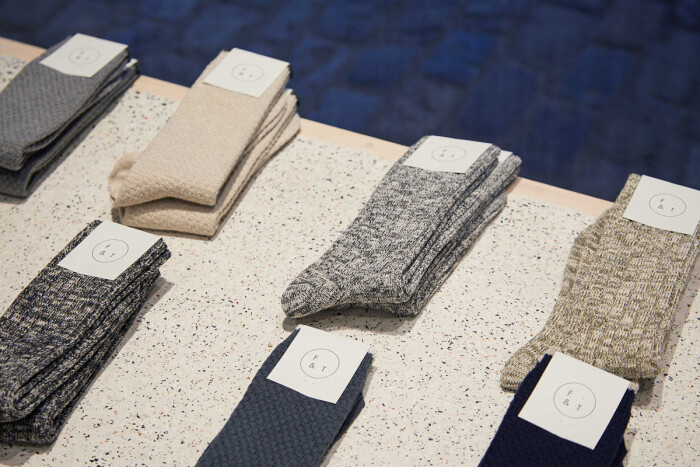 Form & Thread remove what doesn't add value to a product, choosing instead to invest in what does. This shows in store, in their products, and in every piece of packaging and labelling.
Simon Farrow left our partners in London with one clear thought in mind: with an independent retailer, you get so much more than just the products you walk out of the door with. You get an experience, you get attentiveness, and you get quality in the form of simplicity and style, wrapped up in classy and considered packaging that will always leave the customer wanting to go back for more.
For further information see the Form & Thread, Hamilton and Hare, and Trunk Clothiers packaging projects.