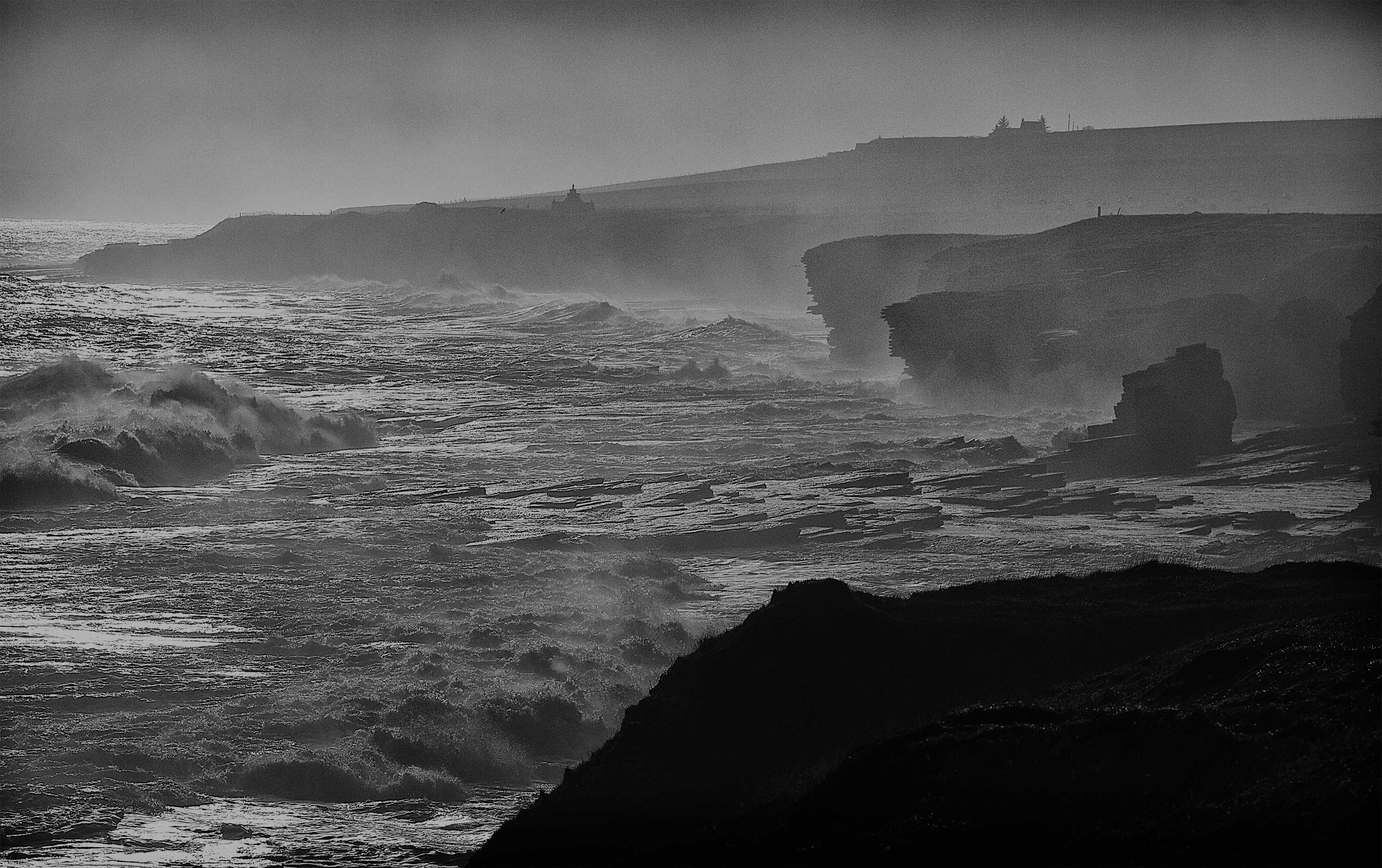 A Journey in Packaging
with our partners Wolfburn Distillery
Part 1 of an interview with Daniel Smith (MD of Wolfburn Distillery) and Simon Farrow (MD of Progress Packaging), taking a look at the story behind bringing the Wolfburn brand back to life since its demise in the 1800s.
Text: Vicki Walmsley.
Five hundred miles north of Progress, over a nine-hour journey away through the beautiful Scottish Highlands, there is a distillery, located in the most northerly British mainland town of Thurso.
A part of the historically rich area of Caithness and surrounded by a rugged coastline that overlooks the tempestuous North Sea, Wolfburn Whisky has officially been reborn after being lost for over 150 years. It ceased to exist in the late 1800's following the restrictions of prohibition due to the mass consumption of whisky which caused chaos in the region.
Progress were fortunate to be a part of the journey to bring the distillery back to life in the present era, when entrepreneur and Wolfburn MD, Daniel Smith found himself standing on the very spot of what was once the home of the old distillery while searching for a new adventure of his own.
With Thurso sitting as far north as you can imagine and not being easily accessible to a lot of people, some could argue that it seems an odd place to start a business. Daniel told us how that isn't a problem for Wolfburn, and how he thinks he would have been crazy to start this up somewhere else when the whisky brand of old already had so much history behind it.
'While we are out of the way in the grand scheme of things, we're actually not a location that's out of the way in the world of whisky. We package the bottles up in the cartons, we open the door, load the whisky onto a truck, sign a bit of paper and then it goes to where it needs to go. It's no different to being anywhere else, really,' he tells us casually.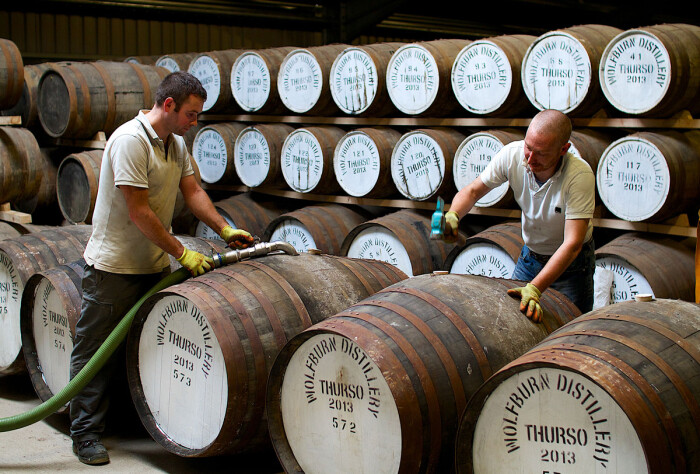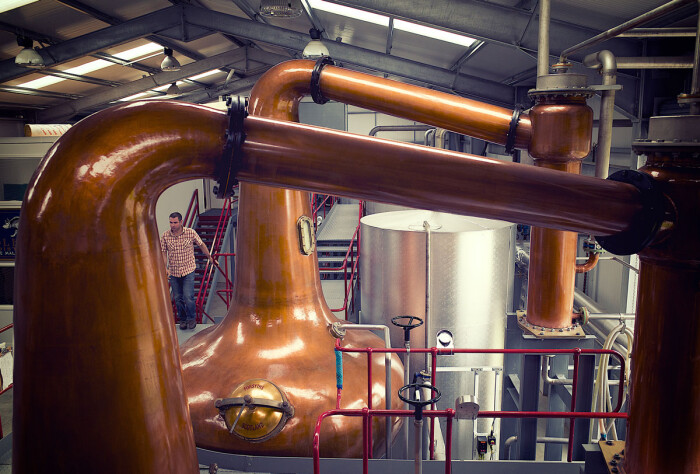 'We saved around 11% on our packaging. There's less wastage and it's just better all round… it's about functionality.''
Luck also played a small role in the partnership that was to soon develop between Wolfburn and Progress. Daniel told us that when the time came to look into the packaging of the bottles, it was in fact Google that came to his rescue, bringing the Progress website to his attention which seemed to fit his requirements perfectly.
'I phoned Simon (MD, Progress) and asked him if whisky packaging was something he could help me with and he said, yes, absolutely! That's how it began.' He laughs while telling me that he wishes he could have a more adventurous tale to tell about the beginning of this particular journey. 'But it was this conversation with Simon that I realised Progress were exactly, if not randomly, what we needed.'
'When Simon came to visit us for the first time, after a nice cup of tea we put him to work, bottling the whisky. He did a couple of hours work with the bottling, seeing and learning the whole process so he understood what was needed from the packaging. It was then that he turned around and said, this could be done better – we should change this.'
Simon's time on the production line allowed him to see that there wasn't a requirement for one of the cartons they were using. Instead of having two different boxes, they could just make one generic piece of packaging for both bottle sizes, then differentiate between the sets by using two kinds of packing tape, each with the required barcodes on, making it more efficient by not having to switch between cartons.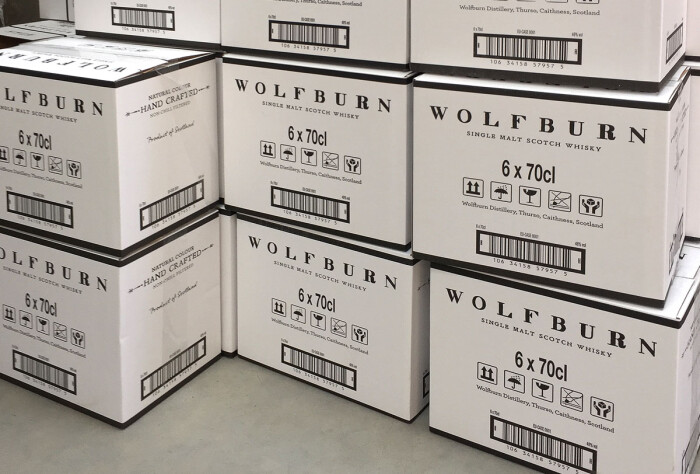 Wolfburn whisky transit packaging boxes produced by Progress.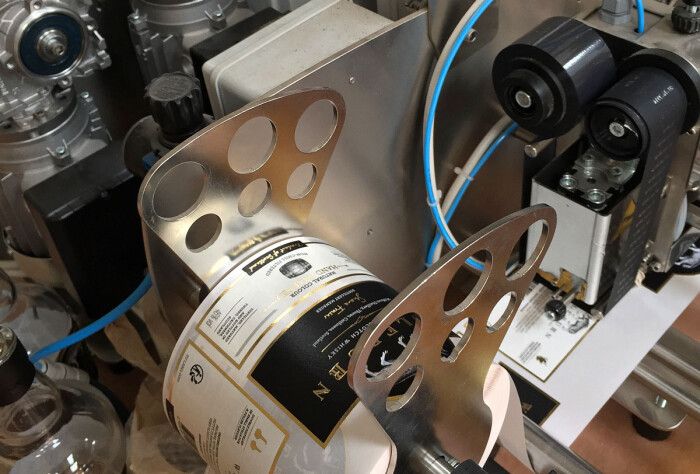 Labelling machine applying pre-printed branded stickers to bottles on the production line.
''A partnership is a romantic term, but that's essentially what it is. I've got a packaging guru…''
'This has also helped massively with logistics and storage. Tape is easier to store than thousands of different cases. If we've only got one case, we're never going to run out of the other or worry about extra problems – something Simon wouldn't have been able to help me with if he hadn't visited and been put to work.'
'From just that one trip. We saved around 11% on our packaging. There's less wastage and it's just better all round, proving it's not just about the quality of the product, it's about functionality.'
'If we'd gone to China we might have been able to save 10p a carton,' says Daniel. 'But we'd have lost all that other stuff.'
'A partnership is a romantic term, but that's essentially what it is. I've got a packaging guru that can point me in the right direction. The devil is in the detail and if the detail is not there in a brand like ours, we're stuffed.'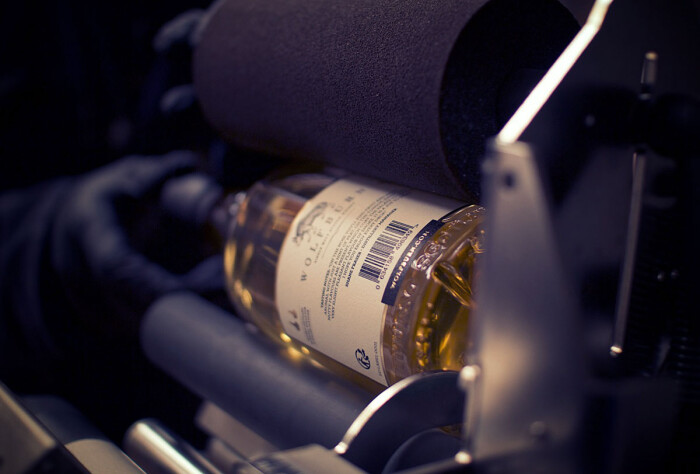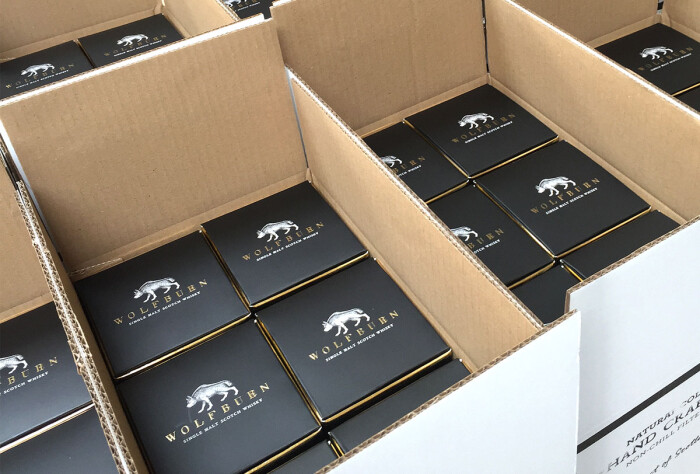 Outer transit packaging boxes filled with crash-lock base cartons.